What is eNurse?
eNurse is an automated check-up program on the Musely app designed to guide you during the first 60 days of your treatment. Throughout check-ups, you will be asked a series of questions and eNurse will provide you with the following based on your answers:
What to expect in each phase of the treatment

Tips on managing side effects

Suggestions for maximizing results

Records of your progress
How to get started:
Download the Musely app and login with your Musely account email address. Use these instructions to start your check-ups.
Checkup Schedule:
There is a circle on each date you have a scheduled check-up. Click here to see the check-up schedule for each treatment.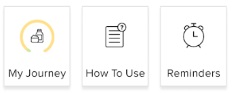 My Journey: See completed, upcoming, and missed eNurse check-ups.
How to Use: Click to see a comprehensive list of dos, don'ts, expectations and treatment instructions for each treatment you have a prescription for.
Reminders: Set reminders to notify you when to use the treatment and when to complete your eNurse check-ups.
Completion of eNurse check-ups for applicable treatments will allow you to qualify for Musely's 60-Day Result Guarantee.